As an educator, I've always gravitated toward teaching through play, whether it be games, role play, or just having fun during lessons. Going back to the first child I taught, I've always tried to make my teaching interactive. The child was learning to read, and we pretended a yoga mat was the boat from our story. We acted out every chapter, sailing across an imaginary sea.
I've taught multiplication through the use of Uno cards. I've written letters and numbers on balloons to make the abstract feel more tangible. I've used everything from memory games to board games to enhance lessons and better connect with learners.
If I'm being honest, I did it for myself as much as for my students: doing my lessons this way kept everyone engaged and made learning fun. I've always implicitly felt that a learner who isn't engaged wouldn't retain information or build a strong connection to their learning.
As my career advanced, I began to realize that this wasn't just a hunch. The connection between learner engagement and learning outcomes became more and more clear. Play-based learning emerged rapidly as an innovative educational approach to support this methodology. But I didn't realize just how widespread this approach has become until we traveled to LEGO's headquarters in May 2022. Learnfully's co-founder and CEO, Letha McLaren, and I traveled to Denmark for the LEGO Foundation's "Play for All" accelerator program. The accelerator program provides equity-free funding and fixed-term mentorship programs for social enterprises, ventures, and organizations who wish to support autistic children and children with ADHD through play-based learning. It immediately reassured and energized me to see just how invested companies are in a play-based approach to learning.
During our time at the LEGO Foundation campus, we heard from experts and collaborated with other entrepreneurs. The many sessions, workshops, and keynotes we participated in were an unending source of rejuvenation and inspiration. It was great to work alongside our entrepreneur peers and converse with experts in the field. Especially when considering the last two-plus years of the pandemic, when it's been too easy to feel isolated and lonely. The time we spent together with other entrepreneurs helped the Learnfully team realize how many people share our worldview—particularly in that we need to reframe our thinking when it comes to learning diagnoses and putting learners in certain boxes, like "neurotypical" vs "neurodiverse." We all shared a collective vision: that the conversation around neurodiversity needs to change. And that the impact of play should be front-and-center in this conversation. We all have different ideas on how to achieve this goal, but it aligns us under a common guiding North Star principle.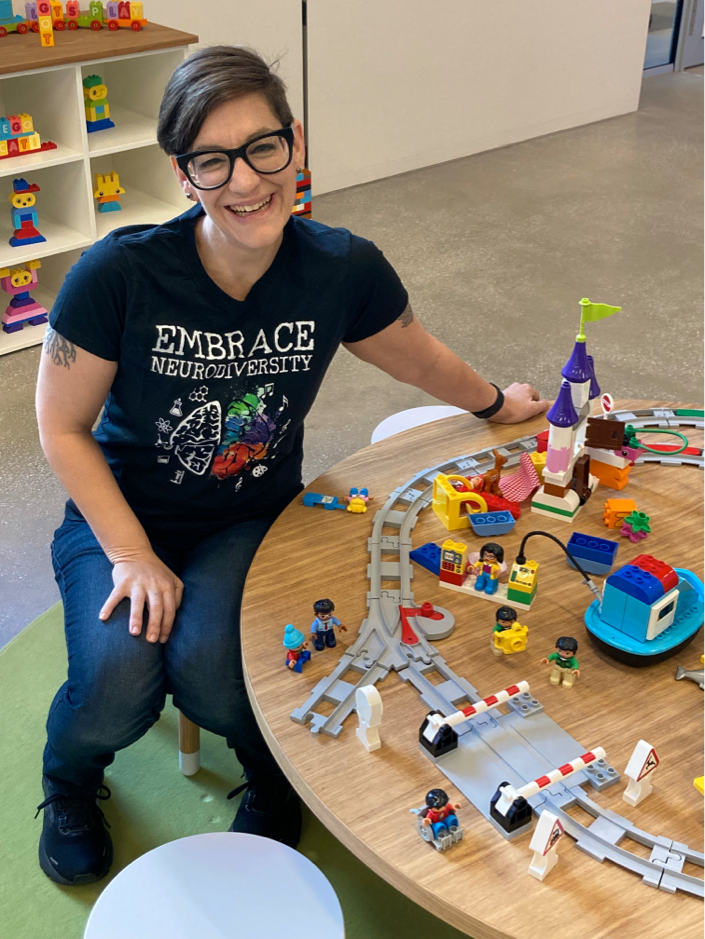 Learnfully brought a distinct focus to the program around the area of executive functioning (EF). We've always known that EF is the key foundational basis for any type of learning—it's the gatekeeper to all of learning. If a child is unable to regulate their emotions, manage their time, understand their peers, etc., then it simply doesn't matter what the curriculum is—it won't be effective.
So how does a learner build executive functioning? Play has been scientifically proven to enhance EF in young learners. Our time at LEGO demonstrated to us that EF is finally getting a place at the table: educators, caregivers, and companies are all waking up to the long-term developmental importance of EF.. Learnfully has long been a proponent of the benefits of EF, offering classes and multisensory instruction for learners, and professional development for educators, focusing on developing EF skills. We predict that the significant impact executive function has on a person's life will continue to gain traction and prominence in the neurodivergent community and the larger education system.
Getting the chance to spend several days in Demark alongside other like-minded companies and individuals was an eye-opening experience I'll be drawing on for many years. I've always felt that play is the most effective way children and their educators can connect, and my time at LEGO helped confirm it as the lynchpin for everything important to the learning process—from instruction and engagement, to skill development and retention.Mr. Rogers once said: "Play gives children a chance to practice what they are learning." Thanks to our trip to Denmark, we confirmed it does this and much, much more.