The Value of Assessments and Learning Profiles
October 11 @ 1:00 pm

-

1:45 pm

PDT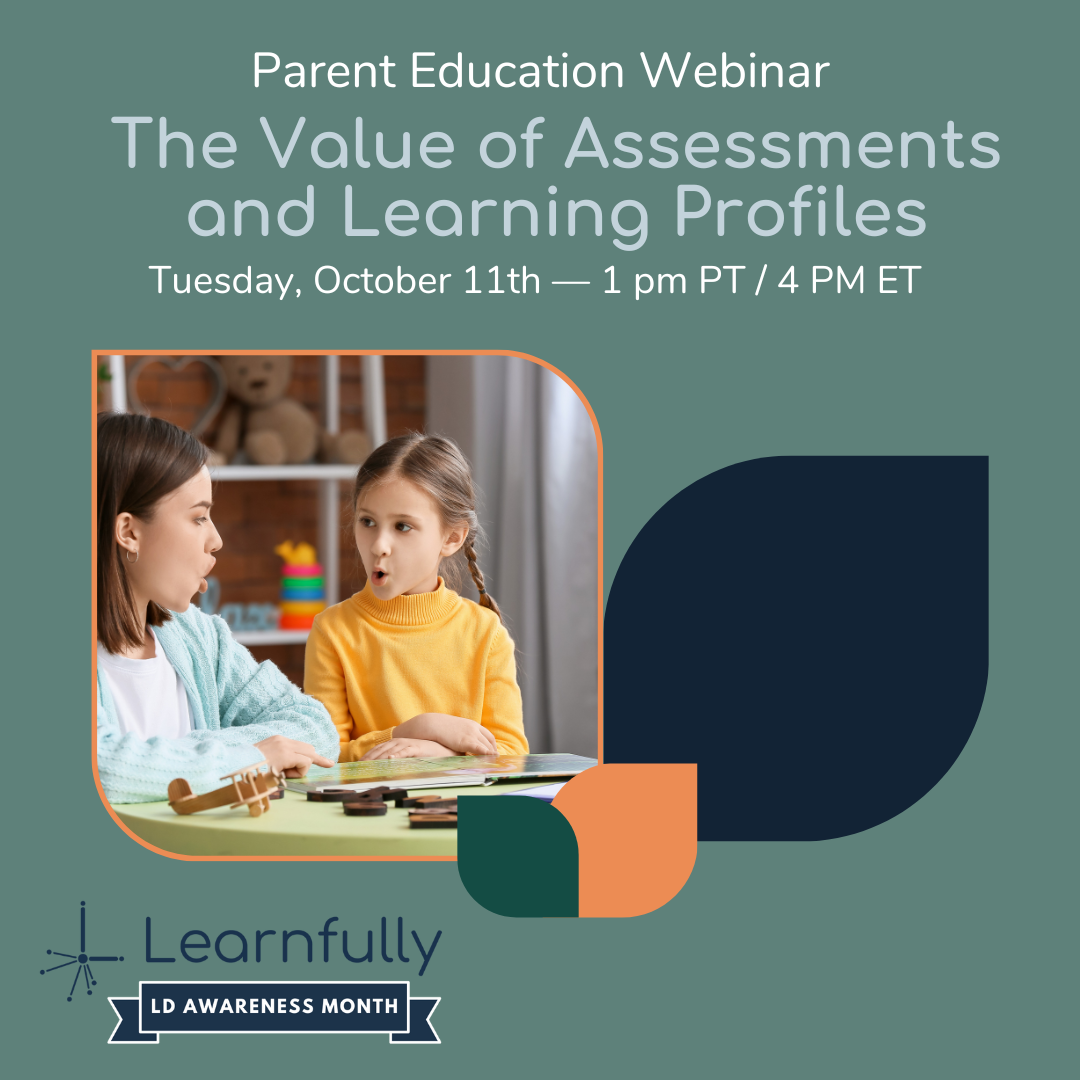 Learn how assessments can​ be invaluable to parents—providing a complete picture of ​a ​​learner preferences, strengths, and challenges.

Event Details:
According to our 2022 Neurodiversity Report, 40% of parents know or suspect their child has a learning difference. Parents also report that they want to understand how their child learns best, yet deciding whether or not your child needs an assessment of any kind can be daunting for parents and caregivers. There are a variety of evaluation tools and processes that present layers of confusion to most parents but it doesn't have to be that way. The evaluation process should be empowering and seen as a positive experience, for both the child and parents. Challenges can be reframed as areas of growth and the evaluation process can give kids the tools to understand how they learn and know how to approach specific tasks. In this webinar, our panelists will compare psychological assessments, learning evaluations and general screenings and will explain the importance of creating an individualized learning profile in order to empower the child, parents/caregivers, and the rest of their ecosystem of support to advocate for their needs.
The webinar will consist of a 30-minute panelist discussion followed by an opportunity for attendees to directly interact with the speakers in a live Q&A session.
About the Speakers
This webinar is presented by Jess Corinne, the Head of Educational Services for Learnfully. Jess has 20+ years of neurodiversity experience, dedicating her life to providing learning support to families using multi-sensory, evidence-based curriculums. At Learnfully, she oversees the administration of academic assessments, the development of differentiated instructional plans, and instructional implementation for children with or without diagnoses. Learnfully focuses primarily on building learner confidence while developing skills in reading, comprehension, spelling, writing, math, social skills, Executive Functioning, and beyond.
Alexis Takagi is an Educational Specialist at Learnfully, Inc specializing in English and mathematical tutoring. She is a doctoral candidate studying social justice leadership in higher education at Santa Clara University's School of Education and Counseling Psychology, and currently researching how memorable messages (affirmations) about school impact academic retention and growth mindset.
Rachel Leonard has an M.S. Ed in Curriculum, Instruction and Assessment. She has earned certification as an Education Specialist, specializing in mild/moderate disabilities. She has extensive training in a wide range of multisensory, evidence-based programs including Orton-Gillingham®, SMARTS-EF, Handwriting Without Tears Training, & Lucy Calkins Readers Workshop®.
Dr. Melissa Sorci is a Licensed Clinical Psychologist with over 15 years of experience working with preschoolers, children, adolescents, and young adults in a variety of settings. She has worked in the non-profit, public and private sectors serving as a clinician, consultant, and diagnostician. Her specialty is the psychoeducational assessment of school-aged children. She has a depth of experience in the identification of developmental delays, learning disability detection, intra-cognitive processing awareness, diagnosis of mental illness, and parenting assistance. Dr. Sorci is often called upon by parents and professionals to explore difficult diagnostic situations to assist in treatment planning and intervention.