SSTs, 504s and IEPs – What All Caregivers Need to Know
September 21, 2022 @ 12:00 pm

-

12:45 pm

PDT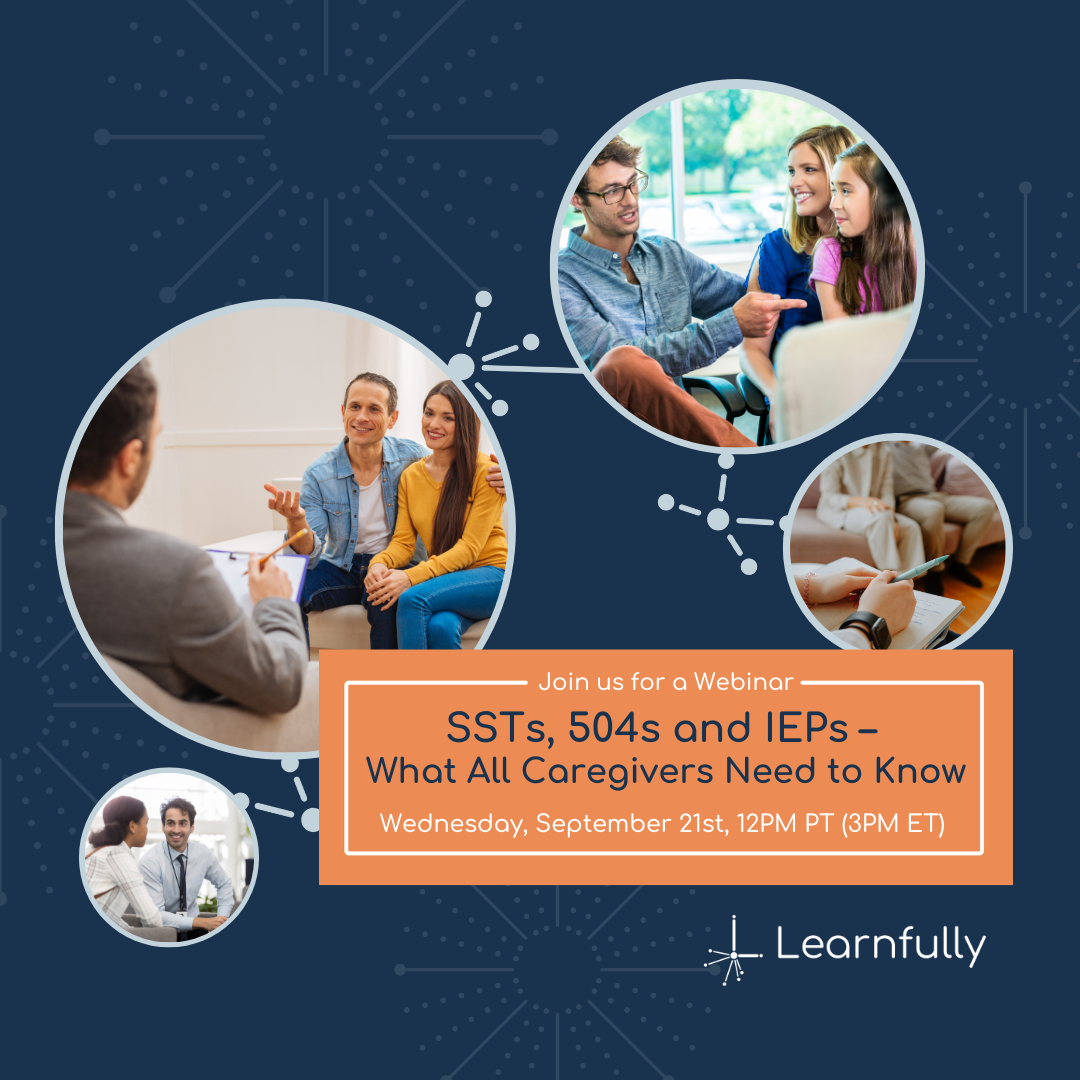 Make the most out of teacher meetings this year – learn what to expect, how to bring the right information, and know what questions to ask.

Event Details:
With school underway, parents and caregivers will soon have the first of many opportunities to connect directly with teachers. With so many moving parts and things to remember, we thought it would be helpful to host a webinar for caregivers so that you can get an understanding of the typical types of meetings that you might need to attend this school year as well as strategies for maximizing these opportunities.
In the webinar, our panelists will provide an overview of parent-teacher collaboration and how to optimize communication during the school year—as well as what to expect within each meeting, including Parent-Teacher Conferences, Student-Led Conferences, Student Study Team Meetings (SSTs), 504 Plan Meetings, and Individualized Education Plan Meetings (IEPs). We'll cover the expected timing of the meeting, the objective, who attends (and why), how to best prepare, and also help you with what to bring to the meeting. Our mission is to help you get the most out of the time that you spend with your learner's educational team so that you can set your learner up for success!
The webinar will consist of a 30-minute discussion followed by an opportunity for attendees to directly interact with the speakers in a live Q&A session.
About the Speakers
This webinar is presented by Jess Corinne, the Head of Educational Services for Learnfully. Jess has 20+ years of neurodiversity experience, dedicating her life to providing learning support to families using multi-sensory, evidence-based curriculums. At Learnfully, she oversees the administration of academic assessments, the development of differentiated instructional plans, and instructional implementation for children with or without diagnoses. Learnfully focuses primarily on building learner confidence while developing skills in reading, comprehension, spelling, writing, math, social skills, Executive Functioning, and beyond.
Dr. Sheila Murphy is the founder of Alma Bonita Animal Rescue and an educational consultant focused on equity, diversity, social-emotional learning, and inclusion. Sheila went into education specifically to advocate and address gaps in the system that failed her own three sons. With a Doctorate Degree in Educational Leadership, a Master's Degree in Education, a Master's Degree in Supervision and Administration, and as a Certified Life Coach, Sheila has focused her life's work on giving to those who are most vulnerable in this world.
Thea Slingland has been working with students that learn differently for more than twenty years. Starting with a BS in Early Childhood Growth and Development and a Masters in Education, she is dual credentialed in Multiple Subjects and Education Specialist: Mild/Mod disabilities with an Added Authorization: Autism. Raised with a profoundly dyslexic brother, Thea has seen firsthand the importance of early intervention and has specialized in this disorder in an effort to bring evidence-based, multi-sensory learning best practice to her teaching and an educated voice to the growing conversation.