Know Your LDA Terminology: Learning Disability, Disorder, Dysfunction, Difference
October 4, 2022 @ 1:00 pm

-

1:45 pm

PDT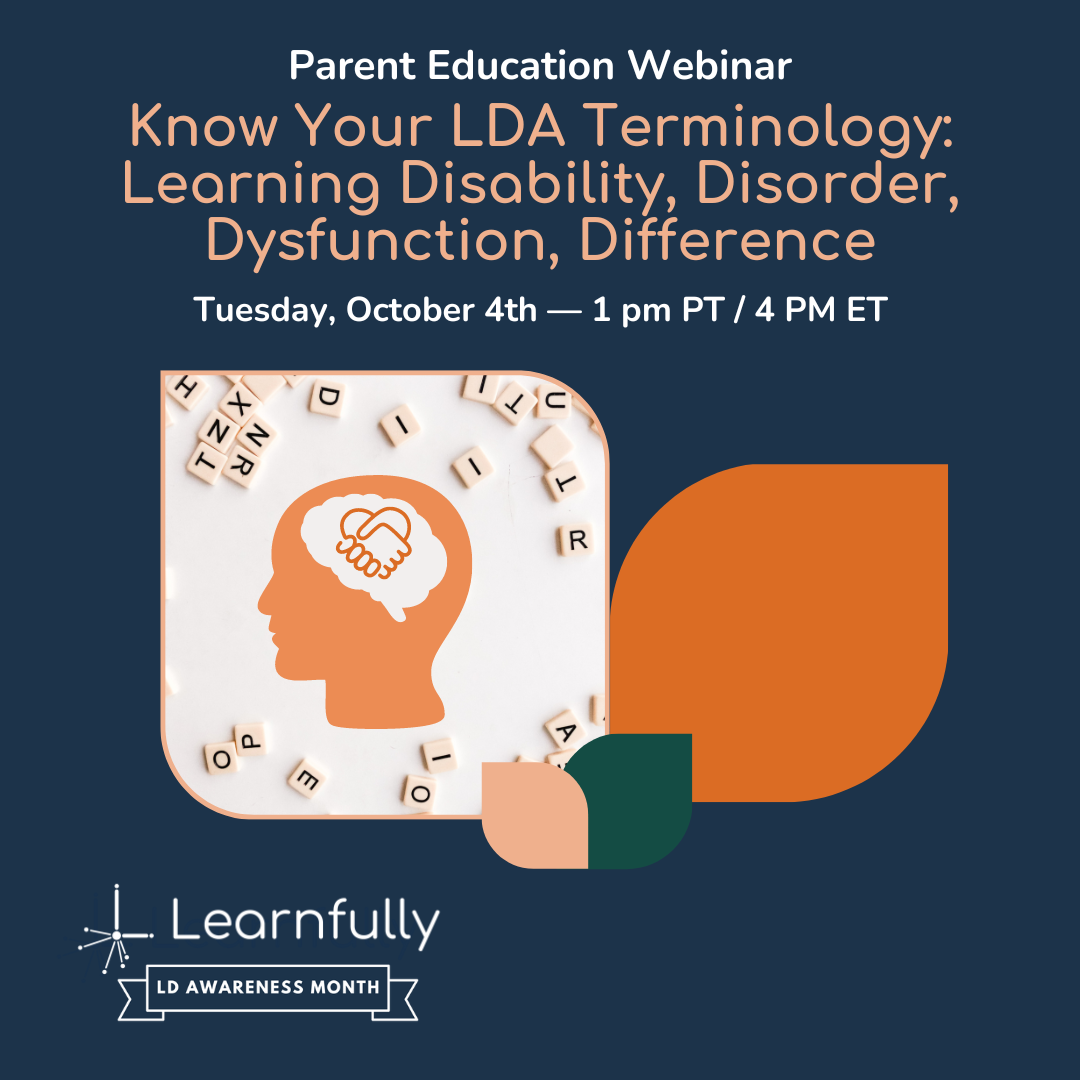 LD Awareness Month is the perfect time to brush up on your LD terminology—join us for this webinar where we'll cover a wide range of terms.
Event Details:
Neurodivergent learners and their caregivers often require services from a variety of specialists and navigating the path to awareness can be rather challenging. An increased understanding and recognition of the 4 learning Ds—differences, disorders, disabilities, and dysfunctions—often gives caregivers and educators the awareness that they need to best support their learners in and out of the classroom. We aim to spread awareness about the various terms that practitioners use when discussing learning difficulties in order to alleviate some of the anxiety and stress you may experience and place you on the path towards your child's success.
About the Speakers
This webinar is presented by Jess Corinne, the Head of Educational Services for Learnfully. Jess has 20+ years of neurodiversity experience, dedicating her life to providing learning support to families using multi-sensory, evidence-based curriculums. At Learnfully, she oversees the administration of academic assessments, the development of differentiated instructional plans, and instructional implementation for children with or without diagnoses. Learnfully focuses primarily on building learner confidence while developing skills in reading, comprehension, spelling, writing, math, social skills, Executive Functioning, and beyond.
Thea Slingland has been working with students that learn differently for more than twenty years. Starting with a BS in Early Childhood Growth and Development and a Masters in Education, she is dual credentialed in Multiple Subjects and Education Specialist: Mild/Mod disabilities with an Added Authorization: Autism. Raised with a profoundly dyslexic brother, Thea has seen firsthand the importance of early intervention and has specialized in this disorder in an effort to bring evidence-based, multi-sensory learning best practice to her teaching and an educated voice to the growing conversation.
Dr. Misha Yajnik, MD, FAAP is a Board-Certified pediatrician practicing in the US. She completed her undergraduate studies at Youngstown State University in Ohio and obtained her medical degree from Ross University School of Medicine in Dominica. With over a decade of experience caring for children from newborns to adolescents, Dr. Yajnik is dedicated to her patients' physical and emotional health. As a parent herself, she believes in supporting others through the peaks and valleys of parenthood. Dr. Yajnik uses her Instagram account (@consciouspediatrician) to discuss emotional wellbeing, conscious parenting, and to combat misinformation. Promoting mindful living at a young age fosters an environment of support for the next generation to thrive.
Missed the live session? You can watch the recording here!