10 Things You Can Do This Summer to Build Executive Functioning Skills
June 21 @ 12:00 pm

-

12:45 pm

PDT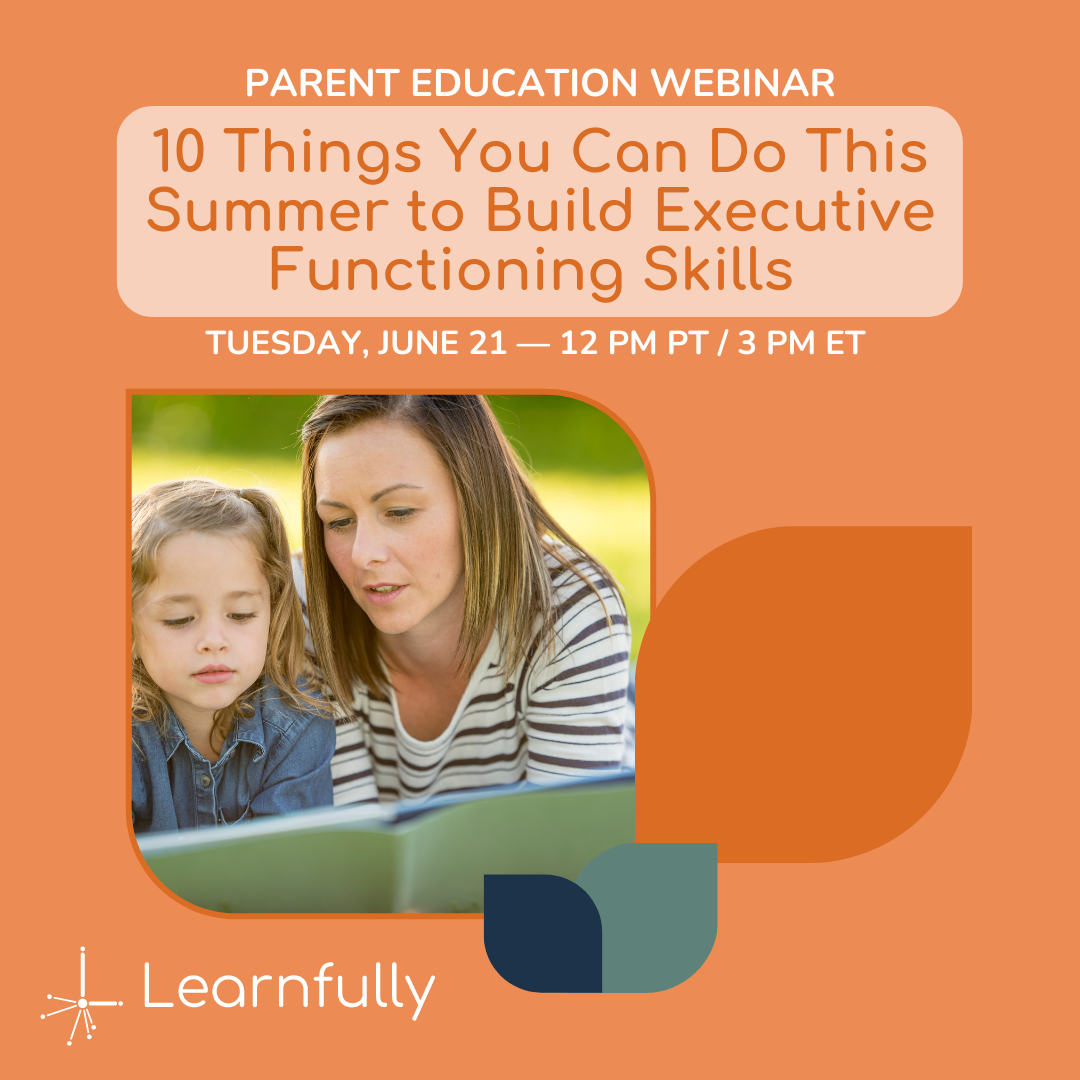 Learn effective strategies for improving executive function—the critical cognitive skills foundational to learning.
Summary:
Executive Functioning is a set of critical cognitive skills that serve as the framework all learning stands upon. With the simple and effective strategies you'll learn in this webinar, you can help your kids naturally improve their executive function while having fun this summer.
Details:
Summer is the perfect time for children to decompress—but did you know this time of the year can also help them gain learning momentum? Due to the stress and anxiety that the last two years has placed on learners, many families are using this summer to recharge. While learners are in a relaxed state, they are more receptive to learning, leading them to experience better outcomes from explicit instruction in key skill areas. One such skill area is that of executive function (EF)—the set of cognitive skills that give us the ability to set goals, plan, and generally get things done. Individuals experiencing difficulty with executive function find it hard to sustain attention, follow multiple-step directions, regulate emotions, and initiate tasks. While executive function impairment is often associated with neurological diagnoses (like ADHD, ASD, dyslexia, or anxiety), executive dysfunction also commonly occurs without other accompanying learning differences or diagnoses.
Parents and educators alike are increasingly interested in the early detection of EF weaknesses, and the age-appropriate strategies that can be leveraged to strengthen EF skills in their learners. In this webinar, we'll discuss ten simple steps to developing EF skills in your children this summer–particularly across each of the skill areas:
Organization and planning

Regulating emotions

Attention and focus

Initiating and completing tasks

Self-monitoring
The webinar will consist of a 30-minute discussion with a psychologist, a parent of neurodivergent learners, and an Executive Functioning Coach followed by a live Q&A session that will allow attendees to directly interact with the speakers.
About the Speakers
This webinar is presented by Jess Corinne, the Head of Educational Services for Learnfully. Jess has 20+ years of neurodiversity experience, dedicating her life to providing learning support to families using multi-sensory, evidence-based curriculums. At Learnfully, she oversees the administration of academic assessments, the development of differentiated instructional plans, and instructional implementation for children with or without diagnoses. Learnfully focuses primarily on building learner confidence while developing skills in reading, comprehension, spelling, writing, math, social skills, Executive Functioning, and beyond.
Dr. Karen Wilson is a clinical Neuropsychologist, Director of West LA Neuropsychology, and an Assistant Clinical Professor in the Medical Psychology Assessment Center at the Semel Institute for Neuroscience and Behavior at UCLA. She is also the founder of ChildNEXUS.com, a web application that provides information to parents who have children struggling with neurodevelopmental or social-emotional issues.
Elizabeth Boyarsky is a former English and history teacher at a school specializing in one-on-one instruction. She now serves as an Educational Specialist and EF Coach at Learnfully. She is innovative with her teaching approach, using multimedia resources, hands-on experiential learning, and journalistic writing techniques. Finding the right tools to support students develop their executive function skills brings her a lot of joy.
Jessica Watson is a mom to several kids with learning differences, including one with autism. As a homeschooling parent, a published author in this space, and a marketing specialist, she has found a great balance between her personal life and her work with the neurodivergent community, and adds a blend of proven and practical advice to our Executive Functioning panel.

Did you miss this event?  Don't worry, you can watch the recorded video below!