Webinar: Tips for Successfully Transitioning Back to School
July 29, 2021 @ 1:00 pm

-

2:00 pm

PDT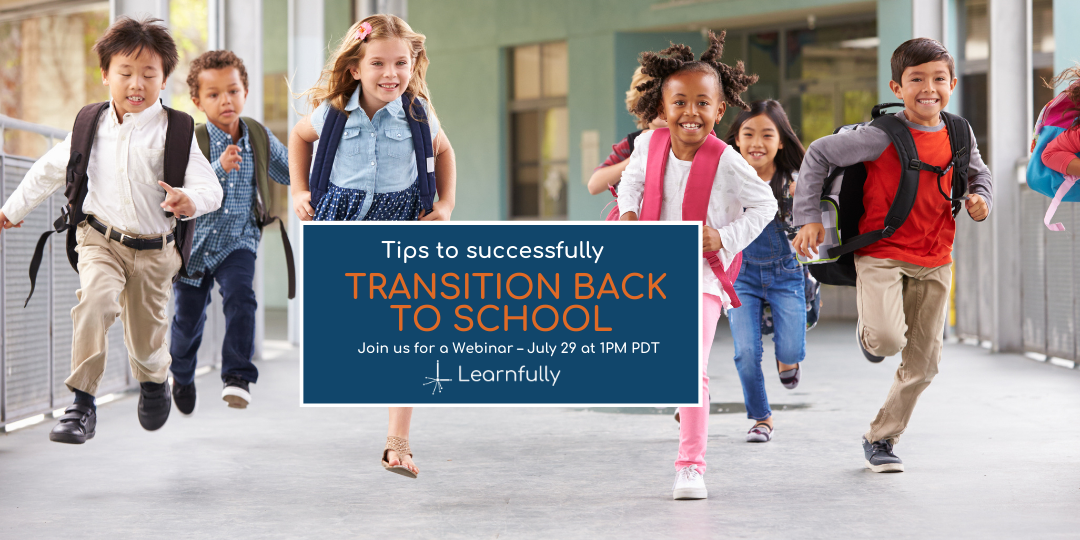 Transitioning back to school can be difficult for many learners – learn how to build confidence and reduce anxiety for your learner.
As the return to school starts to approach, the anxiety in many learners starts to build and often results in a difficulty completing normal daily tasks like sleeping, eating and exercising. Research shows that students with untreated anxiety disorders are at higher risk of poor academic performance and lose out on important social experiences. Proper planning along with prioritizing anxiety management is essential to successfully transitioning back to school.
In this webinar, we'll review reasons why many students struggle with transitioning back to school and discuss practical tips that can help with this transition. This will be a 30-minute discussion followed by an opportunity for attendees to directly interact with the speakers through a live Q&A seslosion.
About the Speakers:
This webinar will be hosted by Jess Corinne, the Head of Educational Services for Learnfully. Jess Corinne has dedicated her life to providing learning support to families using multisensory, evidence-based curriculum. She has 15+ years of neurodiversity experience. At Learnfully, she oversees the administration of academic assessments in order to create differentiated instructional plans for children with or without diagnoses.
Alisha Waldrop is a life-long learner who has worked in education for ten years serving as a classroom teacher, educational leader, literacy coach, advocate, design strategist, and curriculum developer. She graduated from Queens University of Charlotte with a BA in English Literature and Education as well as an MFA in Creative Writing. She now lives in Charleston, South Carolina where she loves playing sports, writing poetry, and spending time with her family. 
Sarah Levene is a licensed marriage and family therapist. She specializes in individualized, strengths-based approaches to assessment and treatment, with special interests in anxiety disorders, aggression and anger management, and defiant/oppositional behaviors. She has a Masters degree in psychology from Cal Poly San Louis Obispo.

Don't worry if you missed the event, you can watch the recorded video here!