Top Tips to Strengthen Executive Function Skills
May 27, 2021 @ 1:00 pm

-

2:00 pm

PDT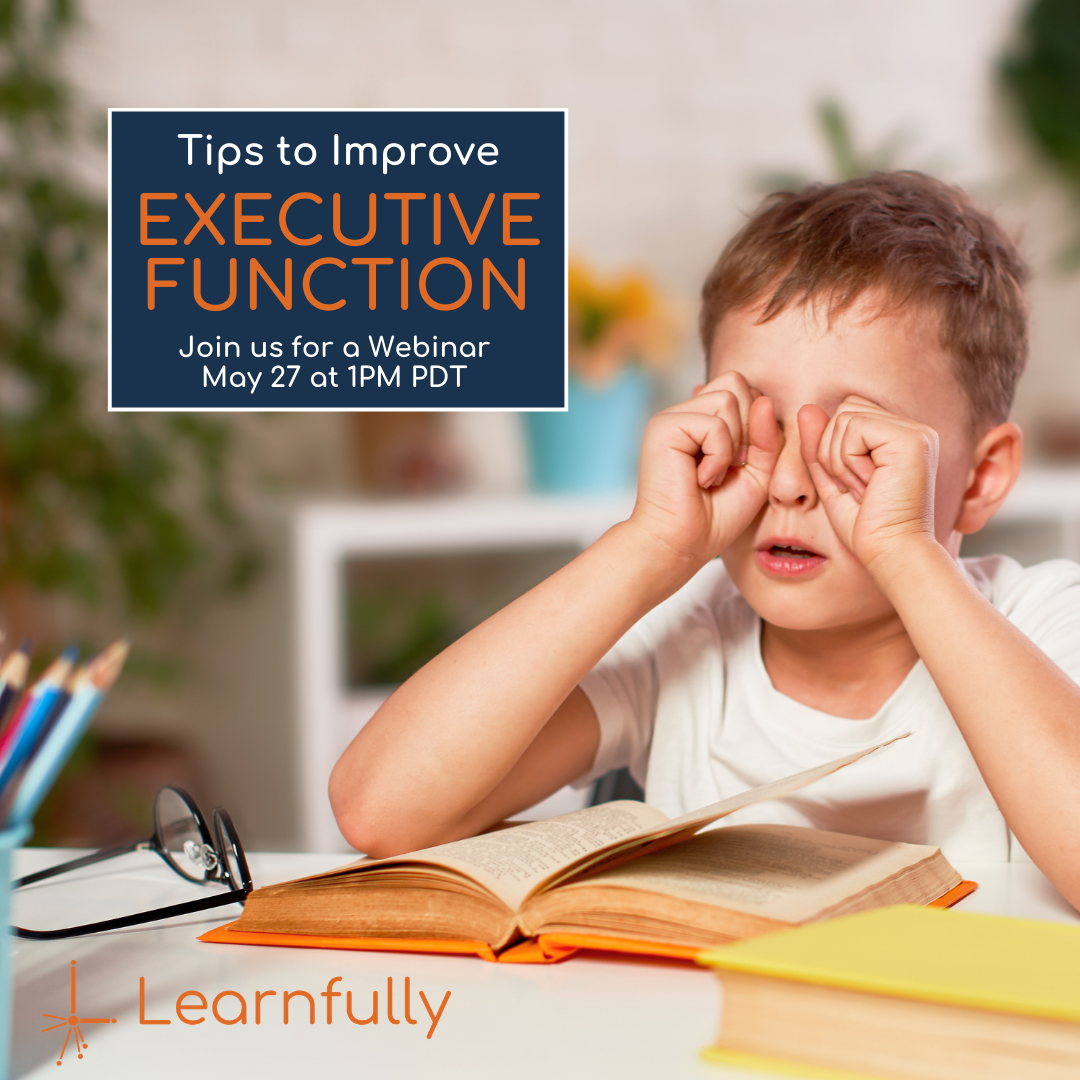 Executive Function is often called the CEO of the brain. That's because it is the set of mental skills that help us set goals, plan, and get things done. Difficulty with executive function can make it hard to follow directions, pay attention, regulate emotions or initiate tasks. While executive function weaknesses are often associated with neurological disorders like ADHD, ASD, or anxiety, it is also common to have executive function challenges in various areas without having a corresponding diagnosis. In this webinar, you will hear a brief overview of executive function and learn about the role it plays in cognitive and social-emotional development. You will learn about the common symptoms of executive function weaknesses and their impact on academic performance. Finally, you'll hear tips and strategies to strengthen executive function skills in areas such as:
Organization & planning
Regulating emotions
Paying attention
Initiating & completing tasks
Self-monitoring
This will be a 30-minute discussion followed by an opportunity for attendees to directly interact with the speakers through a live Q&A session.
About the speakers:
Jeff Bettencourt
has been a certified educational psychologist and family/child counselor for over 30 years. He specializes in Psycho-Educational Testing, Brief and Cognitive Therapy, and Anxiety/Mood Disorders.
Rachel Leonard has an M.S. Ed in Curriculum, Instruction and Assessment. She has earned certification as an Education Specialist, specializing in mild/moderate disabilities. She has extensive training in a wide range of multisensory, evidence-based programs including Orton-Gillingham®, SMARTS-EF, Handwriting Without Tears Training, & Lucy Calkins Readers Workshop®.
Jess Corinne
, the Head of Educational Services for Learnfully, will host this event. Jess Corinne has dedicated her life to providing learning support to families using multisensory, evidence-based curriculum. She has 15+ years of neurodiversity experience. At Learnfully, she oversees the administration of academic assessments in order to create differentiated instructional plans for children with or without diagnoses. Learnfully focuses primarily on building learner confidence while developing skills in reading, comprehension, spelling, writing, math, social skills, Executive Functioning, and beyond.
Event Recording:
If you missed the live webinar, you can watch the video recording here!