Top Tips to Help Your Child Ease into the New School Year
August 18 @ 12:00 pm

-

12:45 pm

PDT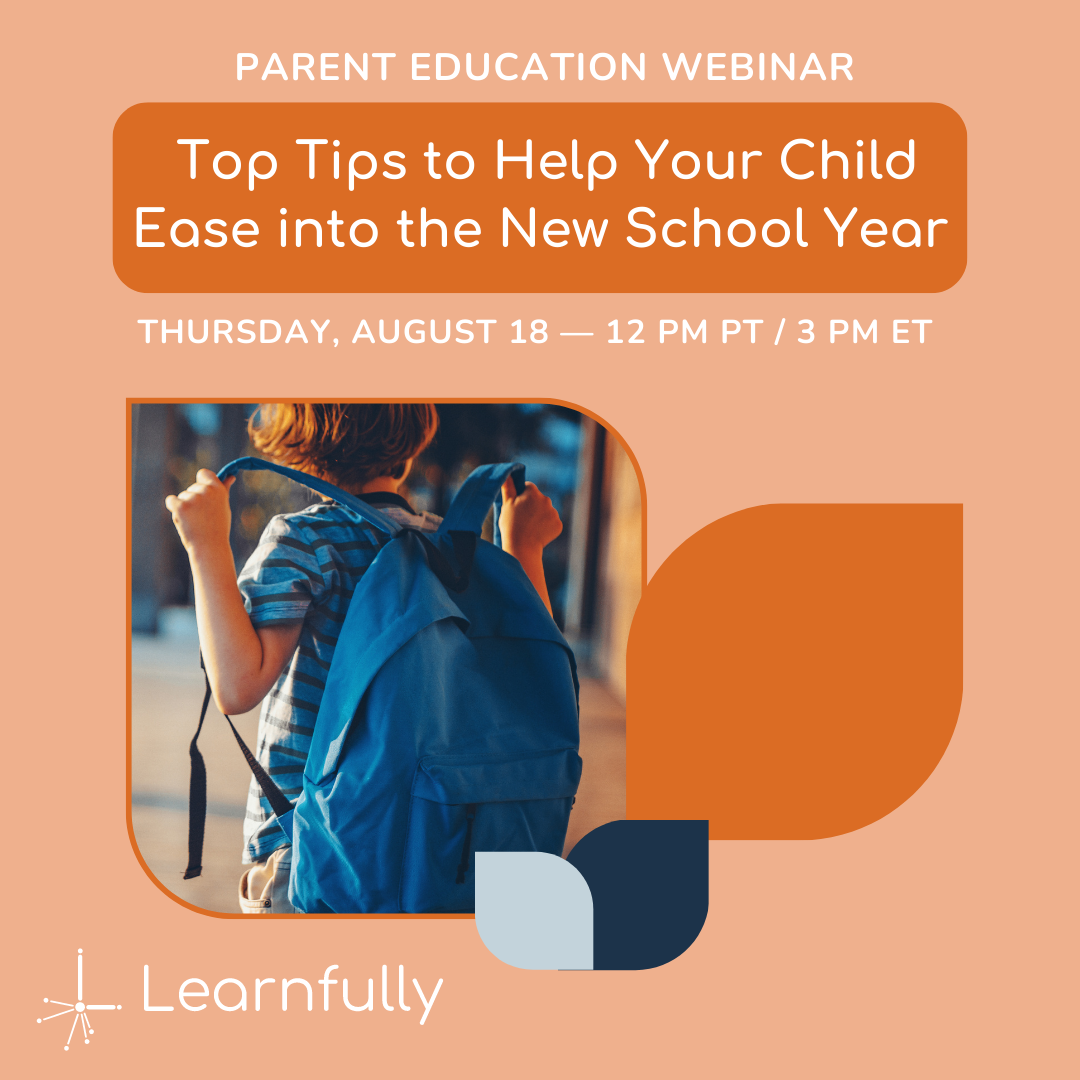 Behaviors formed at the start of the school year can make or break cognitive and social-emotional success. Get tips that will help you and your child ease back into the groove.
If you aren't already back in school, you will be soon—and the beginning of the school year is the ideal time to implement strategies that help with the transition from summer break to school structure. Just as teachers develop strategies for their classrooms—which include things like establishing guidelines, documenting rules, and setting up reward systems as motivational and behavior-reinforcement techniques—caregivers can take a similar approach that will reduce stress and optimize the learning potential of the year ahead.  
Join our webinar to get practical tips on how to adjust to the new school year. You will hear from other caregivers and educational specialists on  how you can establish at-home habits that will reacclimate your child to school routines and support their academic learning.
The webinar will consist of a 30-minute discussion followed by an opportunity for attendees to directly interact with the speakers in a live Q&A session.
About the Speakers
This webinar is presented by Jess Corinne, the Head of Educational Services for Learnfully. Jess has 20+ years of neurodiversity experience, dedicating her life to providing learning support to families using multi-sensory, evidence-based curriculums. At Learnfully, she oversees the administration of academic assessments, the development of differentiated instructional plans, and instructional implementation for children with or without diagnoses. Learnfully focuses primarily on building learner confidence while developing skills in reading, comprehension, spelling, writing, math, social skills, Executive Functioning, and beyond.
Kendra Demler is a single mom and parent writer living in the Bay Area. Her personal experiences have given her a talent for candidly retelling the good, the bad, and sometimes cringe-worthy adventures in neurodivergent and high-needs parenting. Raising her son as a solo parent has driven her passion for using her voice to spread awareness, increase acceptance, and provide support and resources for families of neurodivergent children.
Alexis Takagi is an Educational Specialist at Learnfully, Inc specializing in English and mathematical tutoring. She is a doctoral candidate studying social justice leadership in higher education at Santa Clara University's School of Education and Counseling Psychology, and currently researching how memorable messages (affirmations) about school impact academic retention and growth mindset.
Incase you missed the webinar, you can watch the recording here!