Similarities and Differences of ADHD and Executive Dysfunction
October 25, 2022 @ 1:00 pm

-

1:45 pm

PDT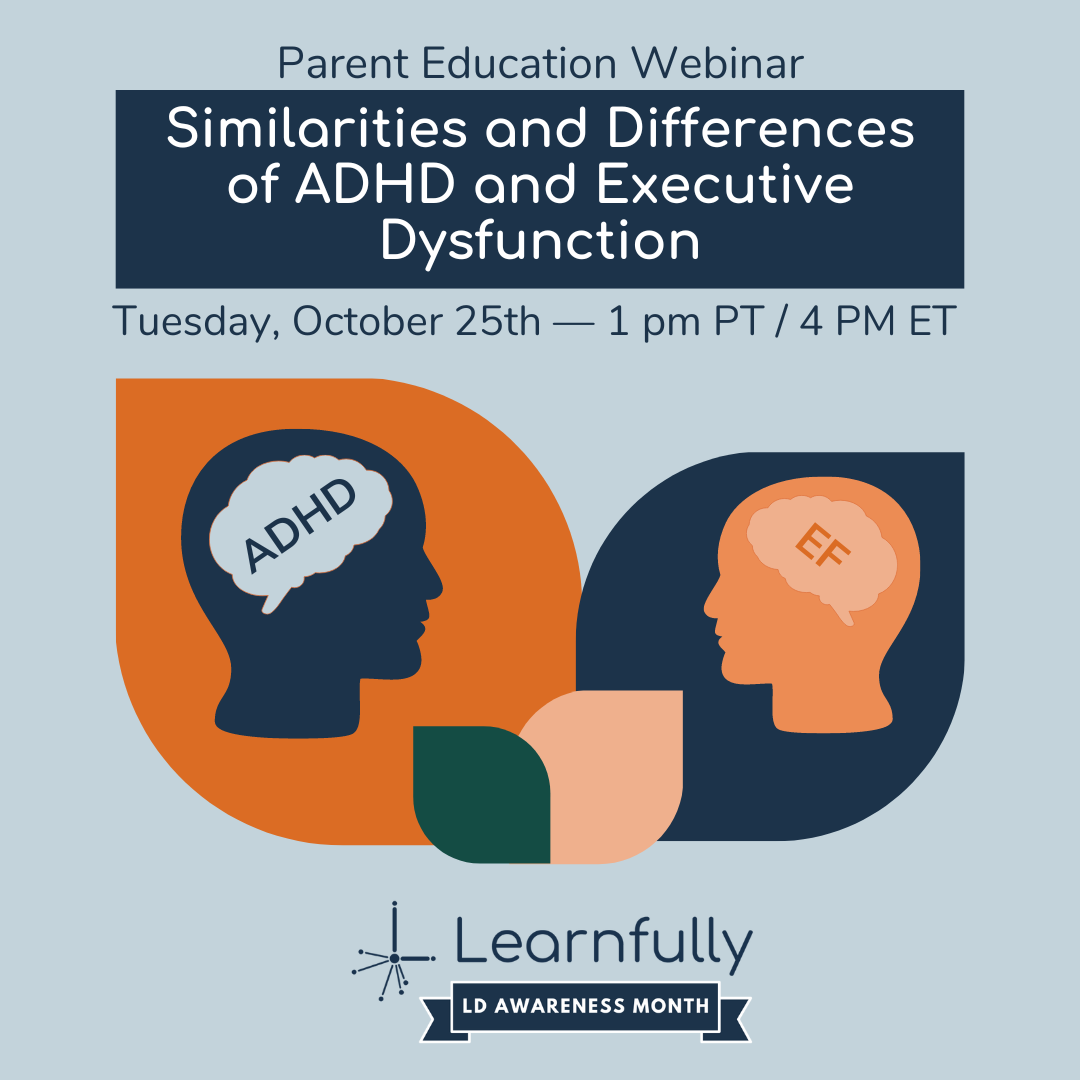 Executive Function is the precursor to learning—learn about the similarities and differences of ADHD and Executive Dysfunction.

Event Details:
There has been an uptick in the number of children and adults diagnosed with ADHD over the past few years due to a heightened cognizance about the lack of skills and prevalent symptoms that define the diagnosis. One critical foundational skill area that can be lacking in ADHD diagnosed learners is that of executive function (EF)—the set of cognitive skills that give us the ability to set goals, plan, and generally get things done. Individuals experiencing difficulty with executive function find it hard to sustain attention, follow multiple-step directions, regulate emotions and initiate tasks. There is a very strong correlation between ADHD and executive dysfunction—a brain's inability to control thoughts, emotions and behavior. Although executive dysfunction is common with conditions like ADHD, Autism, and Dyslexia, it can also stand alone without other accompanying learning differences or diagnoses as well. Parents and educators alike are increasingly interested in the early detection of EF weaknesses, and the age-appropriate strategies that can be leveraged to strengthen EF skills in their learners. In this webinar, we'll compare and contrast ADHD and executive function and discuss how you can strengthen EF skills with or without a diagnosis.
The webinar will consist of a 30-minute panelist discussion followed by an opportunity for attendees to directly interact with the speakers in a live Q&A session.
About the Speakers
This webinar is presented by Jess Corinne, the Head of Educational Services for Learnfully. Jess has 20+ years of neurodiversity experience, dedicating her life to providing learning support to families using multi-sensory, evidence-based curriculums. At Learnfully, she oversees the administration of academic assessments, the development of differentiated instructional plans, and instructional implementation for children with or without diagnoses. Learnfully focuses primarily on building learner confidence while developing skills in reading, comprehension, spelling, writing, math, social skills, Executive Functioning, and beyond.
Dr. Sheila Murphy is the founder of Alma Bonita Animal Rescue and an educational consultant focused on equity, diversity, social-emotional learning, and inclusion. Sheila went into education specifically to advocate and address gaps in the system that failed her own three sons. With a Doctorate Degree in Educational Leadership, a Master's Degree in Education, a Master's Degree in Supervision and Administration, and as a Certified Life Coach, Sheila has focused her life's work on giving to those who are most vulnerable in this world.
Dr. Georgia Bozeday, Ed.D. serves as the Director of Education Services at Rush Neurobehavioral Center. She has her Ed.D.from National-Louis University in Curriculum and Social Justice, Post Masters Certification Programs in School Administration, Learning Disabilities, Masters in Early Childhood Education, and her Bachelors from Northwestern University in Speech and Language Pathology. She specializes in a number of areas including Executive Functioning.
Mike Smith is an Educational Specialist and Executive Function Coach with expertise in curriculum development and assessments of social-emotional learning. ​​He's part of the educational support team at Rush Neurobehavioral Center.