Parent/Caregiver Education Night
April 13 @ 5:30 pm

-

7:30 pm

PDT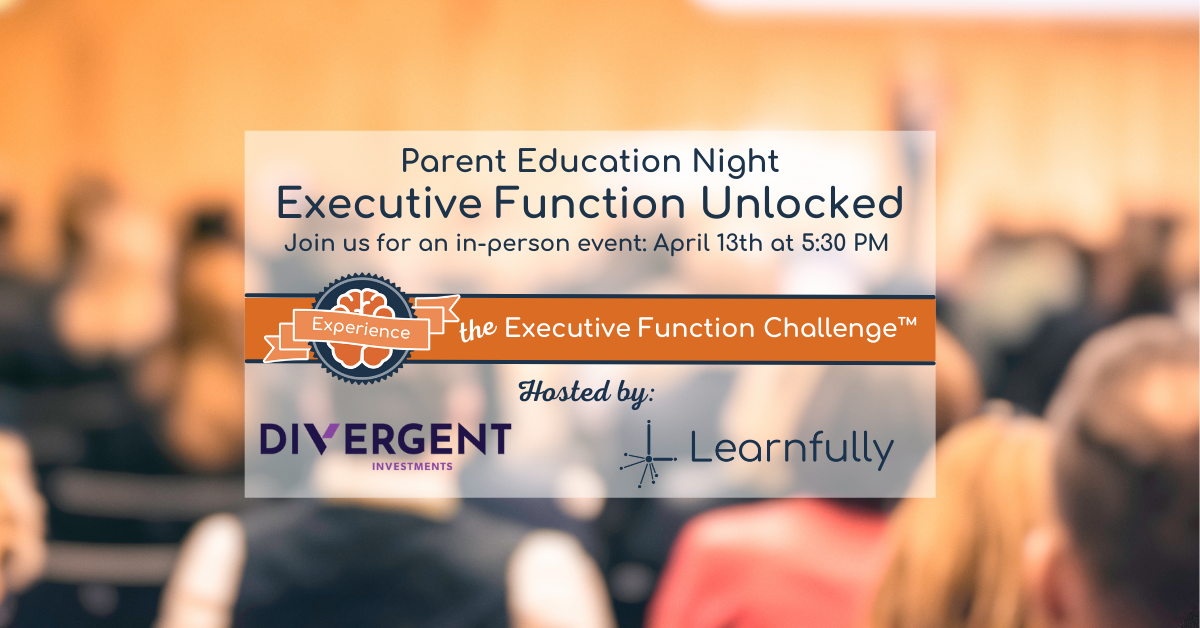 Learn about the critical role that Executive Function plays in your child's ability to learn. Hear directly from experts & network with other parents!
This is an in-person event in Redwood City, CA.  Click on the Registration link below to get the full location details.

Details:
Learnfully's mission is to ignite learning and unlock potential for every learner. At this in-person event, parents will explore the basics of executive functioning, a foundational area of learning critical to every child's success. We'll begin with a hands-on activity that lets participants experience what it feels like for a child who has executive dysfunction, then a panel of childhood development experts and parents will provide personal experiences and insights into the importance of executive function, with strategies to develop these critical skills.
Executive functioning (EF) refers to the set of skills needed to perform daily tasks. It includes things like paying attention, organizing, planning, starting tasks, regulating emotions, and self-monitoring. The importance of its role in academics has gained support in recent years, and interventions targeting executive function skills have quickly gained traction in education.
Learnfully created the Executive Function Challenge™ to help parents and educators better understand executive function and the critical role it plays in learning. It lets participants directly experience what a learner experiences when they have a weakness in one or more of the key areas of executive function, including working memory, time management and planning, impulse control, self regulation, organization, and sustaining attention. The challenge also includes an overview of executive function, the common warning signs of dysfunction, and suggested research-based interventions that help build EF-related skills.
Tickets include refreshments (beverages including wine and beer, and small bites), participation in the Executive Function Challenge, and a panel discussion on the importance of strengthening executive function skills.
Meet Team Learnfully:
This event will be hosted by Jess Corinne, the head of Educational Services for Learnfully. Jess has 20+ years of neurodiversity experience, dedicating her life to providing learning support to families using multi-sensory, evidence-based curriculums. At Learnfully, she oversees the administration of academic assessments, the development of differentiated instructional plans, and instructional implementation for children with or without diagnoses.
Suchi Deshpande is the Chief Product Officer and co-founder of Learnfully. She is the parent of 2 neurodiverse kids and received a late ADHD diagnosis. She has 15 years of experience in tech, autism-tech, Ed-tech, and has a Masters in Engineering from Cornell.
Letha McLaren is the CEO and co-founder of Learnfully. She brings 20+ years of product and marketing expertise in a wide range of industries. She has a B.S. in Electrical Engineering, an MBA from Georgia Tech, and is the parent of a neurodiverse child.
This event is sponsored by:
Divergent Investments
Divergent Investments is a California-based venture capital firm whose mission is to facilitate innovative, long-term solutions to today's most pressing challenges. Focused on neurodiversity, health tech, and EdTech, Divergent partners with some of the most innovative companies to bring real, empowering solutions to the market. Launched in 2021, Divergent is led by Amol Deshpande, CEO and Co-Founder of Farmers Business Network and a former partner at Kleiner, Perkins, Caufield and Byers.
About Learnfully
Learnfully is on a mission to ignite learning and unlock the potential of every learner. Based in San Francisco, Learnfully is a tech-enabled personalized learning service, empowering all individuals to gain access to insights into the most effective learning approach and build a programming plan based on the expertise of educators. Through its groundbreaking tech platform, best-in-class learning assessment, and expert educator network, Learnfully delivers true engagement and tangible results for every learner.