K-12: Unlocking Reading & Writing Through Executive Function
February 2 @ 1:00 pm

-

1:45 pm

PST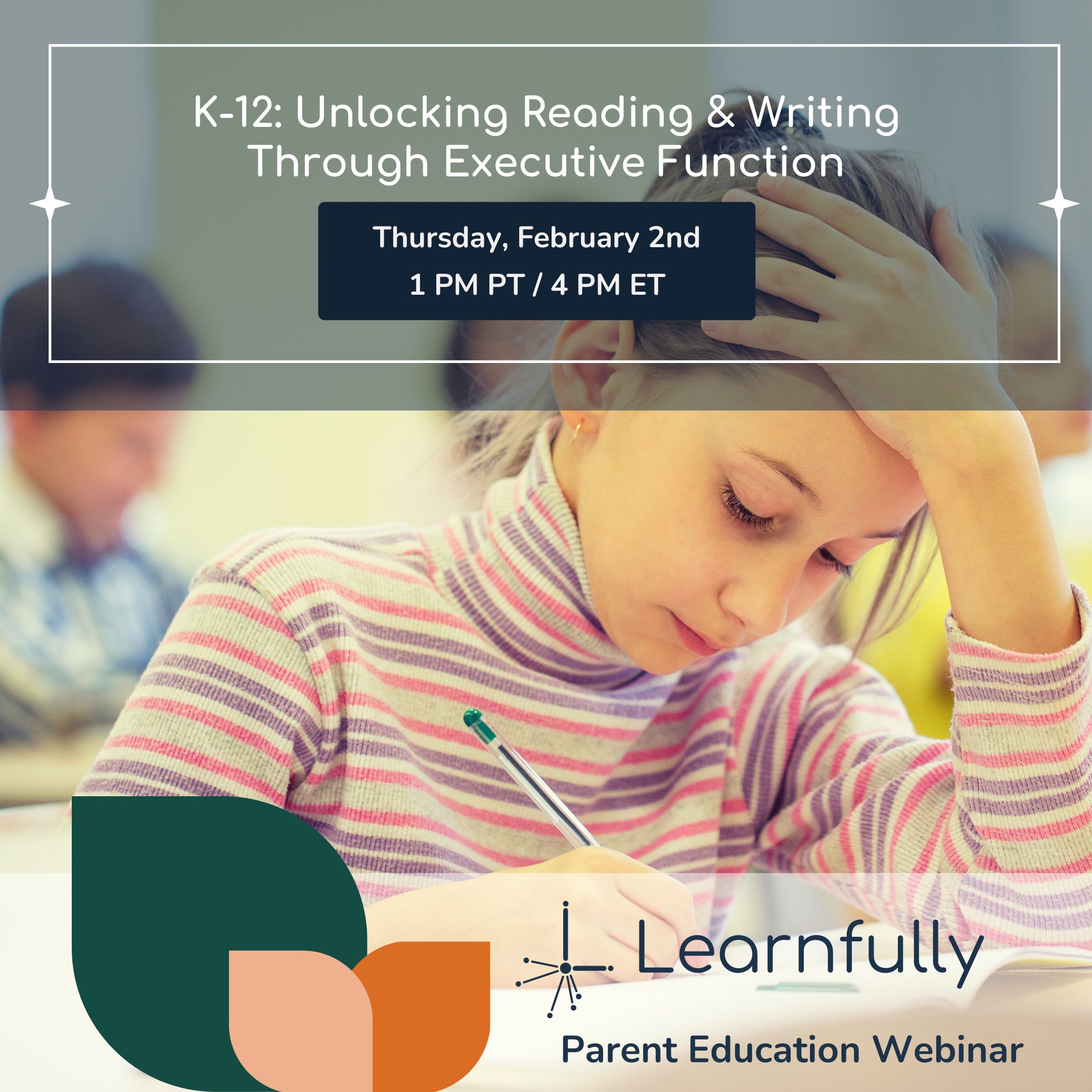 Working memory, organization, and self-monitoring are important EF skills that reading and writing depend on.
Register Now

Event Details:
Research indicates a strong correlation between executive function (EF) and a student's performance in school. Skills governing a child's ability to organize, self-monitor, and utilize working memory can heavily impact their abilities in reading and writing.
Do you notice that your child:
Writes slowly due to planning and handwriting challenges?
Reads to the end of the page and can't remember what they read, or frequently has to reread passages?
Avoids school work, especially longer reading or writing assignments?
Takes a long time to complete schoolwork?
In our webinar, we'll discuss these issues, along with the other roles EF plays in reading and writing. We'll also talk about strategies to improve EF in learners. The webinar is a 30-minute panelist discussion on Learnfully's EF-based reading & writing workshops, followed by an opportunity for attendees to directly interact with the speakers in a live Q&A session.
About the Speakers:
Thea Slingland's experience with neurodiversity started at a very young age. She was raised with a profoundly dyslexic brother, and she has seen firsthand the importance of early intervention. Her experiences shaped her career and led her to specialize in dyslexia to bring evidence-based, multi-sensory learning best practices to her teaching. She adds an informed voice to the growing conversation around neurodivergence and learning.
Thea has a BS in Early Childhood Growth and Development and a Master's in Education. She is dual-credentialed in Multiple Subjects and Education Specialist: Mild/Mod disabilities with an Added Authorization: Autism and has over 20 years of classroom experience.
Jennifer Onoyeyan is passionate about understanding individualized learning modalities for students with learning differences. She uses her expertise in mindfulness teaching, along with her love of psychology, to amplify her impact as an education specialist. Jennifer is a proponent of developing executive function skills in a scientifically-based approach to help children succeed in school and beyond. Understanding that each child learns differently, she feels that every child's uniqueness deserves to be nurtured, respected, and appreciated to unlock their learning potential.
Jennifer has a Master's in Psychology and Education with an emphasis in spirit, mind, and body from Columbia University. She also holds a BA in Psychology and Spanish from Loyola Marymount and has undertaken Social-Emotional Learning/ Mindfulness Education at Teachers College at Columbia University. She brings over 10 years of education experience from early-child development through SAT test prep.
Register Now