Helping Neurodivergent Learners Thrive this Holiday Season
November 3, 2022 @ 1:00 pm

-

1:45 pm

PDT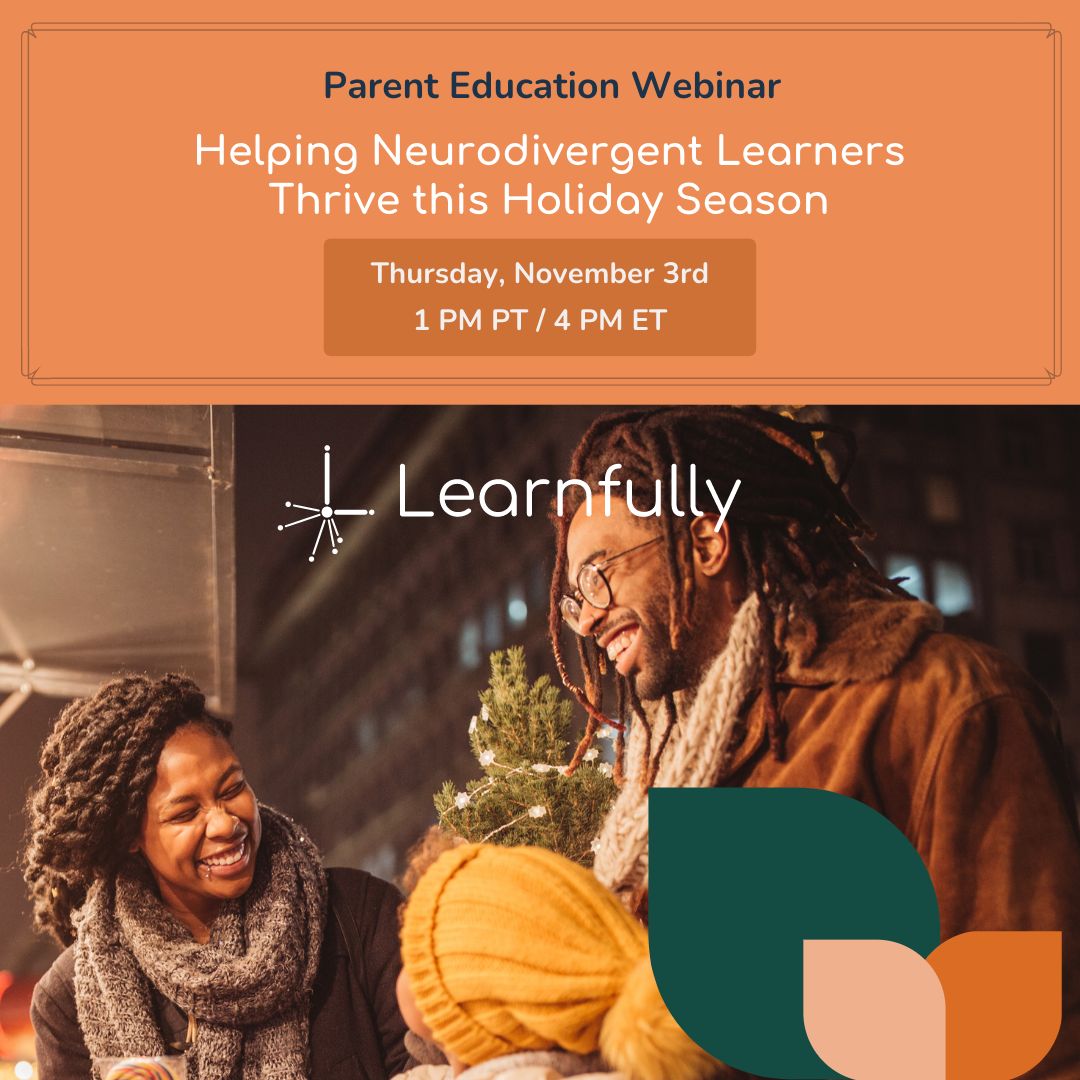 Learn simple strategies to help your child cope with anxiety, depression, and sensory sensitivities often brought on by the holiday season.
Register Now

Event Details:
Neurodivergent learners and their caregivers often face immense and overwhelming feelings throughout the holiday season. From anxiety and depression to sensory sensitivities, learners need and deserve support systems that will reinforce coping strategies in areas such as self-regulation and a growth mindset, especially during the holiday rush. In this webinar, our panelists will provide insight into the types of social, emotional and cognitive challenges our learner community may experience and simple strategies that caregivers and educators can utilize in order for everyone to not just survive the holidays, but thrive!
The webinar will consist of a 30-minute panelist discussion followed by an opportunity for attendees to directly interact with the speakers in a live Q&A session.
About the Speakers
This webinar is presented by Jess Corinne, the Head of Educational Services for
Learnfully
. Jess has 20+ years of neurodiversity experience, dedicating her life to providing learning support to families using multi-sensory, evidence-based curriculums. At Learnfully, she oversees the administration of academic assessments, the development of differentiated instructional plans, and instructional implementation for children with or without diagnoses. Learnfully focuses primarily on building learner confidence while developing skills in reading, comprehension, spelling, writing, math, social skills, Executive Functioning, and beyond.
With over ten years of experience in various sectors of education,
Jennifer
Onoyeyan
 has grown incredibly passionate in understanding individualized learning modalities for students with learning differences. Using her expertise in mindfulness teaching along with her love of psychology, she feels that executive functioning has filled the gap necessary for children to succeed beyond their school aged years. Holding a belief that each child's learning style differs, Jennifer feels that this uniqueness deserves to be nurtured, respected and appreciated in order for students to become capable of understanding their strengths and perspectives.
Register Now