Autism Awareness Month: Trends for Diagnosis & Support of ASD
April 21 @ 1:00 pm

-

2:45 pm

PDT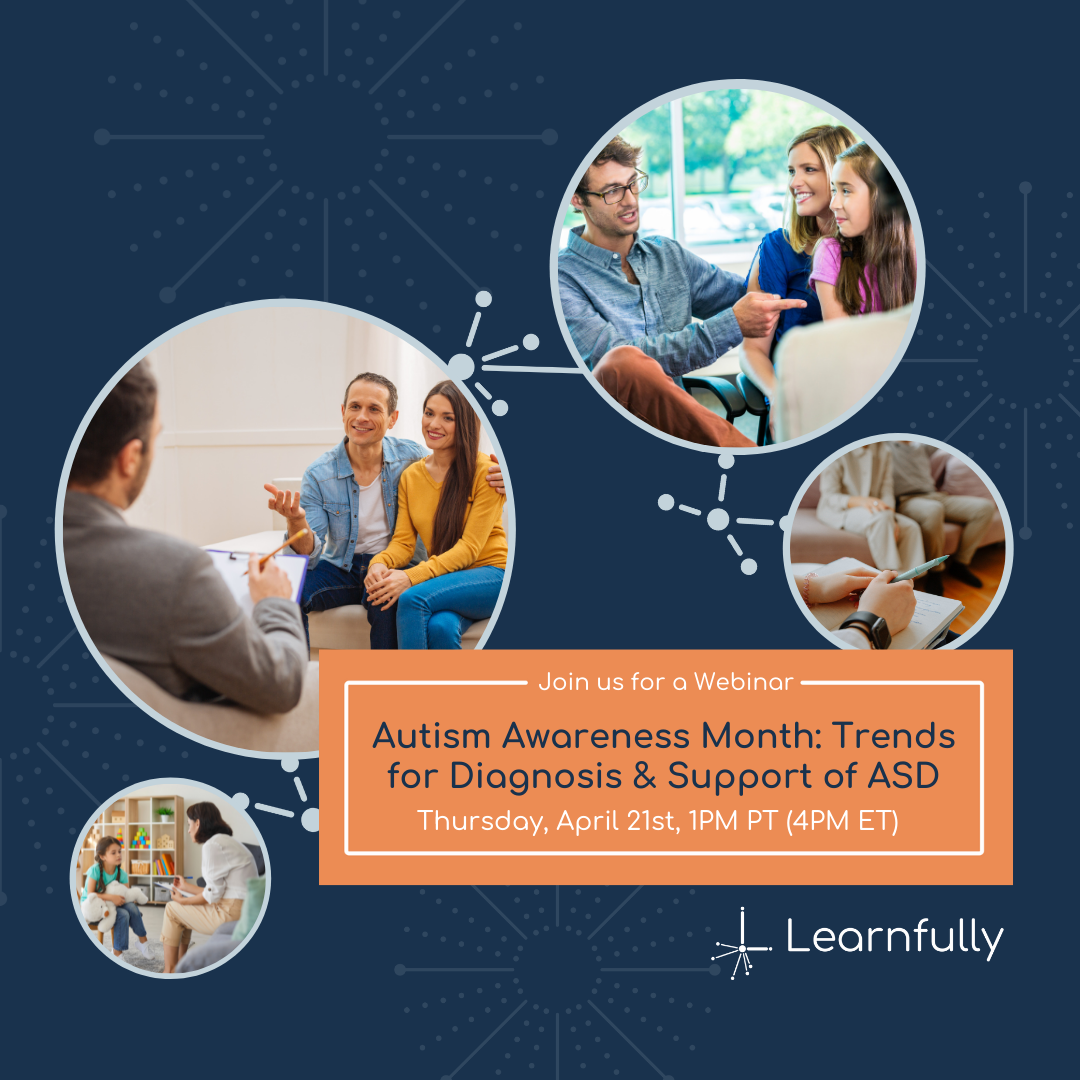 An Autism diagnosis can be overwhelming, here's a team of experts to explore the needs and opportunities for support.
About this Event
While every child is different, having a child with Autism Spectrum Disorder (ASD) requires parents to navigate a new world of assessments, specialty programs, and inclusive services to best support the unique needs related to their diagnosis.
In this webinar, we will hear from experts on how best to support our ASD community—from the initial diagnosis to finding the right supporting services & schools. In addition to practitioner perspectives, we will hear advice from the parent of an ASD learner.  Building an ecosystem of support for ASD learners can be difficult and also rewarding—let's find ways to navigate this journey together. 
This will be a 30-minute discussion followed by an opportunity for attendees to directly interact with the speakers through a live Q&A session.
About the Speakers
This webinar will be hosted by Jess Corinne, the Head of Educational Services for Learnfully. Jess Corinne has dedicated her life to providing learning support to families using multisensory, evidence-based curriculum. She has 15+ years of neurodiversity experience. At Learnfully, she oversees the administration of academic assessments in order to create differentiated instructional plans for children with or without diagnoses.
Dr. Misha Yajnik, MD, FAAP is a Board-Certified pediatrician practicing in the US. She completed her undergraduate studies at Youngstown State University in Ohio and obtained her medical degree from Ross University School of Medicine in Dominica. With over a decade of experience caring for children from newborns to adolescents, Dr. Yajnik is dedicated to her patients' physical and emotional health. As a parent herself, she believes in supporting others through the peaks and valleys of parenthood. Dr. Yajnik uses her Instagram account (@consciouspediatrician) to discuss emotional wellbeing, conscious parenting, and to combat misinformation. Promoting mindful living at a young age fosters an environment of support for the next generation to thrive.
Dr. Brian Lopez specializes in the diagnostic assessment and evidence-based treatments of children with Autism Spectrum Disorders (ASD) and other neurodevelopmental disabilities.  He is the founder and CEO of Jumpstart Autism Center, where he collaborates with Clinical Directors and Supervisors to oversee Applied Behavior Analysis (ABA) programs as well as mentor and interact with members of the team at all levels to foster growth and encourage professional development. 
Rachel Leonard has an M.S. Ed in Curriculum, Instruction and Assessment. She has earned certification as an Education Specialist, specializing in mild/moderate disabilities. She has extensive training in a wide range of multisensory, evidence-based programs including Orton-Gillingham®, SMARTS-EF, Handwriting Without Tears Training, & Lucy Calkins Readers Workshop®.
Nicky Collins, The Autism Coach, is a champion for autistic women and girls. It is her belief that every woman and girl deserves to be proud of who they are and not frightened or fearful. Nicky spent 34 years not knowing she is autistic and has ADHD; this revelation empowered her to use her personal development skills and passion for helping others, into a business that encourages and emboldens autistic women and girls to step into an authentic version of their autistic self. Nicky is a globally recognized motivational speaker, coach and transformation leader, whose work has touched the lives of many families across the world. Born on the outskirts of London, Nicky lives in the UK with her teenage son, cat and two guinea pigs. Location isn't an issue for Nicky as she conducts the majority of her work online through 121 client sessions, courses and group coaching programs. Nicky is on a mission to challenge the misconceptions and stigmas around autism and what she considers her superpower.
Did you miss the event?  Don't worry, you can watch the recorded video here!