Who's Who in Your Learner's Support Team
October 26, 2021 @ 1:00 pm

-

2:00 pm

PDT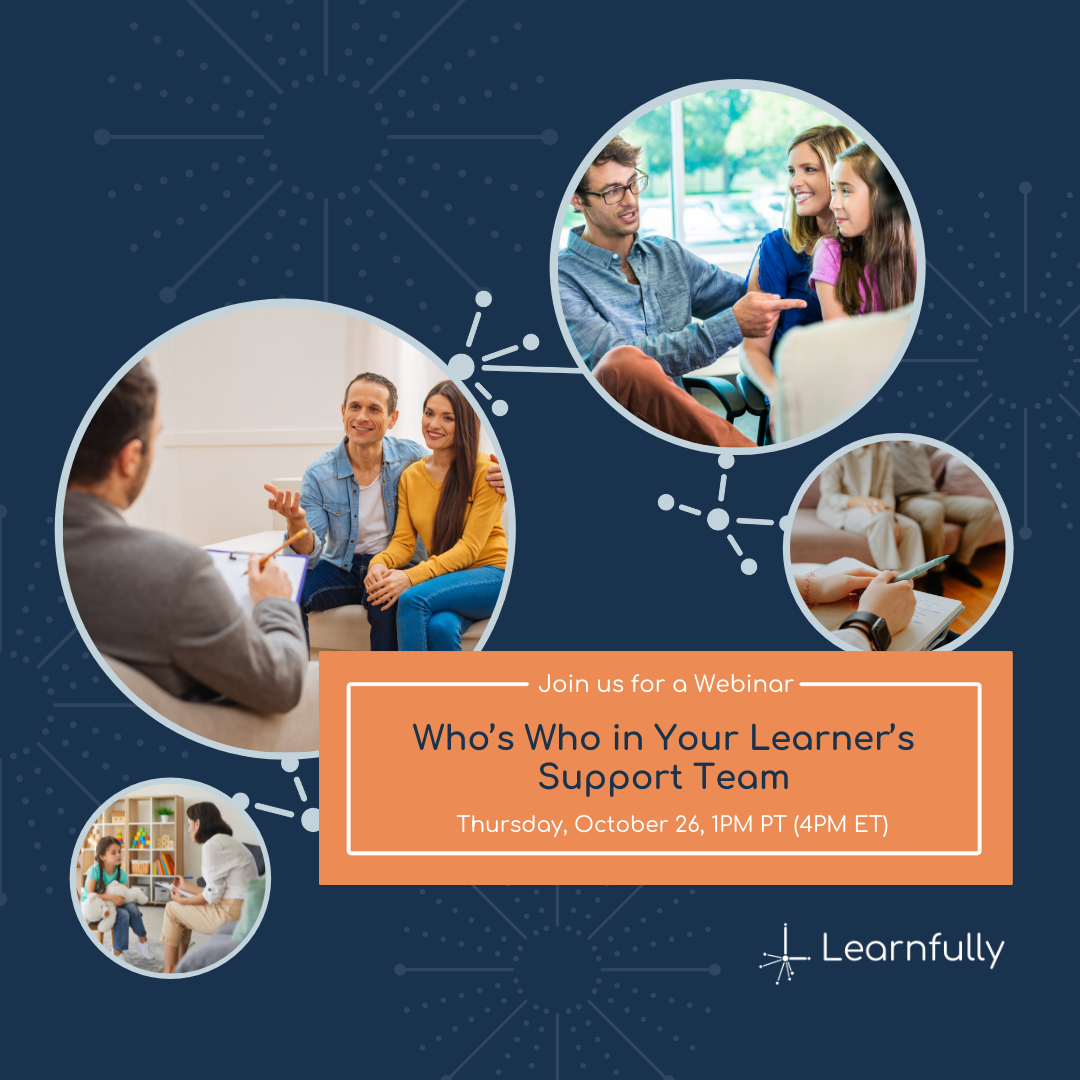 Neurodivergent learners benefit from a support ecosystem–let's discuss the role of each specialist & how they work together to support you.
About this event
Neurodivergent learners—and their caregivers—often require services from a variety of specialists with different areas of expertise. This ecosystem of support is critical to navigating the educational system and achieving the desired outcomes both in and out of the classroom. An increased understanding and recognition of learning differences like ADHD, Dyslexia, and ADHD, has brought about enhanced accommodations and support, often giving parents options in who and where they seek support for their child. In this Webinar, our panelists will demystify the support ecosystem by illuminating the common roles within it, including the school psychologist, speech therapist, occupational therapist, behavioral therapist (ABA/BCBA), and the educational therapist. We'll discuss the function of each, as well as give their perspective on learning and what they typically contribute to the learning process. We'll uncover the differences in their approaches and how they come together to provide a system of support. The webinar will consist of a 30-minute expert panelist discussion followed by an opportunity for attendees to directly interact with the speakers in a live Q&A session.
About our Speakers
Ilana Jurkowitz, Ph.D. is a licensed clinical psychologist with extensive training in cognitive, academic, attentional, and psychological testing. She's also an adjunct professor at California School of Professional Psychology at Alliant International University in Los Angeles, teaching graduate students about psychodiagnostic assessment.
Nicole Butler, M.A. CCC-SLP/L has a master's degree in Speech-Language Pathology from NYU and is ASHA board certified. She is passionate about helping people communicate. During her over two decades of experience, Nicole has gained expertise in the assessment and treatment of speech and language delays and disorders for individuals from newborns to adults.
Rachel Leonard has an M.S. Ed in Curriculum, Instruction and Assessment. She has earned certification as an Education Specialist, specializing in mild/moderate disabilities. She has extensive training in a wide range of multisensory, evidence-based programs including Orton-Gillingham®, SMARTS-EF, Handwriting Without Tears Training, & Lucy Calkins Readers Workshop®.
This webinar will be hosted by Jess Corinne, the Head of Educational Services for Learnfully. Jess Corinne has dedicated her life to providing learning support to families using a multisensory, evidence-based curriculum. She has 15+ years of neurodiversity experience. At Learnfully, she oversees the administration of academic assessments in order to create differentiated instructional plans for children with or without diagnoses.
Missed the Webinar? Don't worry, you can watch the video recording here!